SV Finsterau
Grußwort Vorstand SV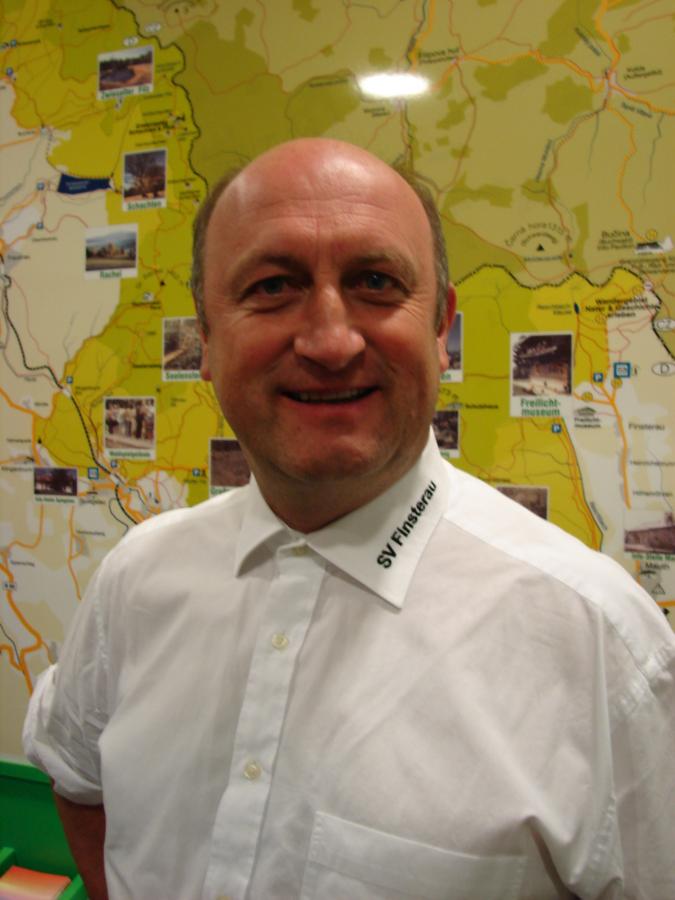 Liebe Wintersportfreunde, liebe Leser!
Ein neuer Winter steht bevor und für den SV Finsterau beginnen wieder Wochen und Monate mit viel Arbeit. Die Weichen für eine hoffentlich erfolgreiche Saison sind aber schon gestellt. Seit Jahren hat sich der SV Finsterau weit über die Grenzen Bayerns einen Namen gemacht. Finsterau ist bekannt für gute Trainingsmöglichkeiten und Austragungsort nationaler und internationaler Wettkämpfe. Die relative Schneesicherheit, die wunderschöne Landschaft und die Gastfreundlichkeit zeichnen unsere Region aus. Die organisatorische Erfahrung, die sich der SV Finsterau in den letzten Jahren erarbeitet hat, ist weit über Gemeindegrenzen in Insiderkreisen der Sportwelt bekannt. Somit ist es für unseren Verein schon fast eine Leichtigkeit auch einmal kurzfristige Wettkämpfe zu übernehmen und in der bereits bekannten souveränen Art und Weise auszurichten. Der Erfolg hat viele Väter. Ich möchte diese Worte in positivem Sinne deuten und die Gelegenheit nutzen, einmal allen zu danken, die uns immer wieder mit Rat und Tatkraft zur Seite stehen. Nicht vergessen möchte ich die Grundstücksbesitzer, die entlang der Loipe immer Verständnis und Entgegenkommen in allen Belangen zeigen. Seit Oktober 2014 gibt es ein weiteres Highlight in Finsterau. Die neue Biathlonanlage wurde eingeweiht.Damit können wir jungen talentierten Biathleten aus unserer Region ein heimatortnahes Training ermöglichen. Auf diese Anlage ist der SV Finsterau besonders stolz.

Liebe Leser, ich wünsche Ihnen viel Spaß beim winterlichen Langlauf in der schönen Gemeinde Mauth-Finsterau.

Christian Eder
1.Vorsitzender SV Finsterau
Dear friends of winter sports, dear readers!
A new winter is coming therefore begin weeks and months with a lot of work for the SV Finsterau. But the course is already set. For years the SV Finsterau has established its reputation way above the boarders of Bavaria. Finsterau is known for good training possibilities and site of national and international competitions. The relative safety for snow, the beautiful landscape and hospitality are representative for our region. The organizational experience the SV Finsterau developed over the last years is known way above municipal boundaries in the world of sports. Therefore our society can with ease quickly take over competitions and host with the known sovereignty. The German proverb "Der Erfolg hat viele Väter" means success depends on many people.
I would like to construe these words in a positive meaning and take the opportunity to thank all people who help us with words and deeds. Not to forget are the estate owners along the cross-country ski run who show always understanding and accommodation in all issues. Since October 2014 the new biathlon ground exists thereby training near home can be provided to our young talented biathletes. The SV Finsterau is very proud of the biathlon ground.
Dear readers, I hope you have a lot of fun during cross country skiing in the beautiful community Mauth-Finsterau.
Christian Eder
1. Chairman SV Finsterau